Opera glasses were once as common as – – – well, as common as operas, and just as elaborate! The first opera glasses were actually little telescopes. There was just one lens and the body was decorated with gems, enamel, ivory and other decorations. (Fancy schmancy!)
But in 1823, the town that brought us both operas and schnitzels – – Vienna – – introduced the world to opera glasses, fancy binoculars destined to be the essential fashion accessory for opera buffs! "Jealousy glasses" offered a different perspective on things. The combination spyware-opera glasses featured a sneaky sideways mirror. They made it possible to discretely observe the action in the audience, as well as the action on the stage.
Opera glasses were an invaluable asset for the well-dressed theatergoer, and it's easy to pick up "standard-issue" vintage lorgnettes (opera glasses on a stick) for under $100.
But to collectors, it's the eyes behind the glasses that make them worth a pretty penny…or in one case, nearly a half a million dollars.
The opera glasses used by Abraham Lincoln at Ford's Theatre on the night of his assassination sold at auction for $424.000.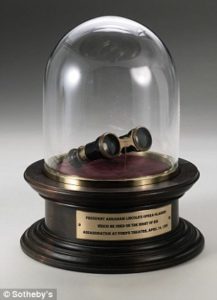 *This story is an excerpt, courtesy of: Betcha Didn't Know That! 101 Antiques and Collectibles Trivia Tips That Can Make You Rich, Famous and the Hit of the Party, Volume One, By Leon Castner and Brian Kathens  www.betchabook.com