Preventative steps for fire losses
Fire can destroy your property in just a matter of minutes. Aside from direct damage, fire creates other conditions that will affect your property.
Burning material produces smoke containing cocktail of nasty chemicals as well as black powdery particles of carbon black, tiny molecules that result from the incomplete combustion of organic material and can be smaller than a human blood cell! These particles will enter the tiniest cracks and crevasses and create an oily smelly mess.
Burning organic material also releases water in the form of steam which condenses on cooler surfaces causing water damage.
Let's not forget about the water that the FD is spraying on your property to put the fire out!
Everyone tells you to prepare…
Check your smoke detectors and replace batteries once a year

Get a fire extinguisher

Conduct fire drills so that everyone knows what to do and where to meet

Keep a copy of your emergency contacts and important papers off-site
Part of your preparation should include a household inventory including an appraisal of any unique or higher value property. This will be invaluable should you need to prove ownership or demonstrate value after the property is damaged or destroyed.
A personal property appraiser can help you out with this. A qualified appraiser has formal education in appraisal theory, principles, procedures, ethics, and law. The appraiser should be up to date on the latest appraisal standards. Continuing education and testing are the only ways to ensure this competence. The appraiser you hire should be familiar with the type of property you want appraised and know how to value it correctly. Expertise on a particular type of property is not enough if the "expert" does not know how to evaluate an item for its appropriate worth. Without appraisal training, these "experts" have no way of understanding the complicated variety of marketplace definitions that are used to determine appropriate value for assigned use.
It is important to ask the prospective appraiser what type of formal appraisal education training he or she has received. Obtaining a copy of the appraiser's professional profile or resume can help you evaluate the appraiser's credentials; the burden is on the consumer to evaluate an appraiser's qualifications. In addition, Membership in a professional association is important because it shows that the appraiser is involved with the profession, has peer recognition, has access to updated information, and is subject to a code of ethics and conduct.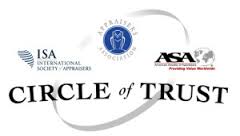 By hiring Emerald Art Services, LLC, you have chosen an IRS qualified appraiser who understands the confidential and sometimes sensitive nature of appraisal assignments. I am ISA trained and Accredited in personal property appraisal methodology and principles. Your property is identified, inventoried and readily apparent conditions are noted in a customized report. Appraisals are conducted with thorough research & analysis of the market and consider the physical qualities as well as the historical & aesthetic value of the property being appraised.
Contact me

today for a

FREE

telephone consultation